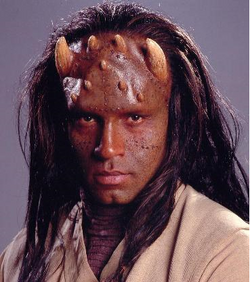 Agen Kolar was a Zabrak Jedi Master that fought in the Battle of Geonosis.
Biography
Edit
Attack of the Clones
Edit
Agen Kolar participated in the Battle of Geonosis, the conflict that sparked the Clone Wars between the Galactic Republic and the Separatist Alliance. As a participant, he was a member of the Jedi strike team assembled by fellow Jedi Council member Mace Windu to rescue Obi-Wan Kenobi, Anakin Skywalker, and Padmé Amidala from being executed by the Separatists.
Television
Edit
Star Wars: The Clone Wars
Edit
Kolar made a brief appearance in Master Yoda's vision of Darth Sidious facing off and killing him in episode Voices.
Expanded Universe
Edit
Star Wars: Clone Wars
Edit
Agen Kolar was chosen to be a member in a Jedi High Council and was present during lots of important discussions like the question of Anakin getting knighted. Oppo Rancisis and few other Jedi Counselors were against Anakin being knighted, but Agen Kolar supported Kenobi, telling others that Anakin has passed every trial the Clone Wars brought him, except the Trial of Spirit. Finally, the Jedi High Council agreed to knight Anakin, because Republic needed every Knight they could muster.
Community content is available under
CC-BY-SA
unless otherwise noted.