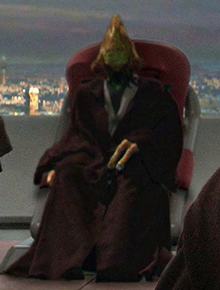 Coleman Kcaj was a Ongree Jedi Master that had served on the Jedi Council during the final days of the Clone Wars. He made his first appearance in Star Wars Episode III: Revenge of the Sith and then later made appearances in several The Clone Wars episode.
Revenge of the Sith
Edit
Near the end of the war, Kcaj was present when the Council granted Skywalker a seat on the Jedi Council, after he had been appointed there by Supreme Chancellor Palpatine. Shortly thereafter, Palpatine declared himself Emperor and Skywalker, having become the Sith Lord Darth Vader, helped the Emperor destroy the Jedi Order.
Television
Edit
Coleman Kcaj made several appearances in Star Wars: The Clone Wars television series.
Expanded Universe
Edit
Coleman makes one EU appearance in Star Wars: The Force Unleashed novel as a puppet. In the junk heaps of Raxus Prime, the diminutive Knight Kazdan Paratus succumbed to insanity, building a replica of the Coruscant Jedi Temple. Filling the junk edifice with puppets of his peers, Paratus filled the seats of his makeshift High Council Chamber with a replica of each Councilor, including Kcaj.
Community content is available under
CC-BY-SA
unless otherwise noted.