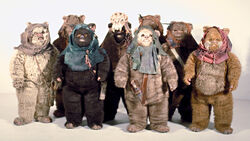 Ewoks
are the inhabitants of the
Forest Moon of Endor
, where
Star Tours
provides departures. They are only seen briefly in the Star Tours attraction, on the large display board in the queue area, where they are described in an advertisement as "the lovable Ewoks" on the "exotic moon of Endor," and are not seen in the ride itself, as the moon is never reached by the
StarSpeeder 3000
. Their village serves as the exterior queue at the
Disney's Hollywood Studios
attraction and in the evening, they can be heard telling stories in their treehouses.
Ewoks were first introduced in, and were major characters of the George Lucas' Star Wars film Return of the Jedi, which takes place mostly on the moon of Endor. According to the documentary Empire of Dreams and the commentary for the 2004 rerelease of the film, Lucas inspired the Ewoks and their method of defeating the Galactic Empire from the Communist-backed Guerilla group, the National Liberation Front, better known as the Viet Cong from the Vietnam War.
External Links
Edit
Community content is available under
CC-BY-SA
unless otherwise noted.